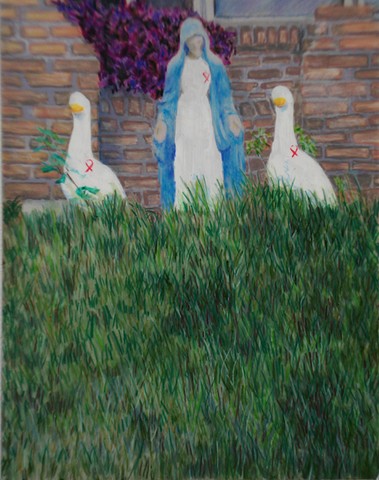 Mary and Geese(wearing red AIDS/HIV awareness ribbons)
colored pencil and acrylic on Dura-Lar
5" x 7"
2010
This piece was created specifically as a donation for an AIDS/HIV silent auction benefit.
In one subdivision of Sterling Heights, MI, the image of the Virgin Mary is found repeatedly in the form of a statue and is evidence of the large influx of Catholic Iraqis.
Taking notice of the suburban practice of dressing animal statues to support athletic teams or seasonal holidays, I project that today's Virgin Mary would select to dress in support of a cause. Created for an AIDS benefit, she is depicted wearing a red awareness ribbon. The two goose statues on either side of her are also sporting red ribbons, implying their support for HIV/AIDS awareness.