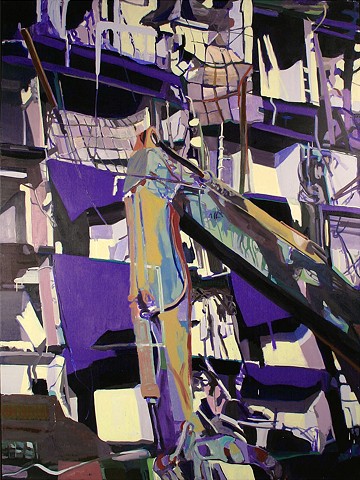 Make Room for the Max
(M. Fisher Music Center)

(Collection of Randy Pardy)
oil on canvas
72" x 96"
2004
The series entitled Demolition Sites (2002-2004) was created in response to the transition occurring in Detroit's physical and historical landscape. These paintings aim to document the fleeting state of specific buildings; ultimately capturing a moment of a location's appearance between what it had been and what the place will become.
The painting, Make Room for The Max (M. Fisher Music Center) presents the action of tearing down one place to make way for another.
The Orchestra Hall Place Development Project began in 1996 and on October 11, 2003 the $60 million project, nicknamed "The Max," created a new music center complex consisting of the restored and modernized Orchestra Hall and a 135,000 square-foot facility that includes The Music Box, a 450-seat second performance hall with variable configurations, and the 15,000 square-foot Jacob Bernard Pincus Music Education Center, which supports the DSO's youth ensembles and other educational activities.
However, residential buildings had to be demolished and consequently, families displaced to make room for the new construction.